March 18, 2009
This man's face fascinates me. He is so clearly out of his depth and each day he looks a little more willing to admit to it. What are the folks saying who have declined his job offers?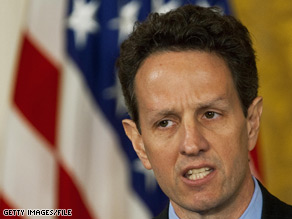 Treasury Secretary Tim Geithner
Mr President, it's time to actually reach across the aisle…to Mitt Romney…if you haven't already.
What your folks did, especially Dodd's attempted cover up, is vintage Washington.
Campaign promises are over – words do matter – start meaning them. You mesmerism is fading fast and people are actually hearing the emptiness of your teleprompter speeches.
ps. Your use of transparency has expired. Try *honesty*.
***
Geithner Pix: Uh, what?
Giethner pix: Just try it barry
List of financial achievements
TurboTax made me do it
barry on Geithner
AIG Timeline
Tim Geithner's AIG Timeline
AIG $165M bonuses after $170B bailout
AIG bonus breakdown
barry on AIG (video)
AIG: Edward Liddy (video)
Tim Geithner on Charlie Rose (video)
Andrew Cuomo: $30M of AIG bonuses will be returned