May 16, 2010: Reiss arrives in France
Iran releases Clotilde Reiss to French embassy
August 8, 2009
The last of the nine UK embassy employees (all Iranian citizens) to be released was put on trial yesterday in Iran. Hossein Rassam, 44, chief political analyst at the embassy (pictured below) was initially charged with "damaging the country's national security". He was the only one of the nine charged and was released on $100K bail. At that time British authorities were reassured that he would not be tried. In fact, Simon Gass, UK's ambassador to Iran, attended Ahmadinejad's inauguration ceremony on the 5th..
From to the UK Guardian (PETER BEAUMONT & SAEED KAMALI DEHGHAN):
[Rassam] "confessed" in court that he had recruited a network of 50 agents on behalf of the embassy in the past year and attended pro-democracy demonstrations to gather information and foment unrest.
Did the protests look like a network of 50 agents had planned it? And of course the US has to be implicated.
According to the official IRNA news agency, Rassam confessed at the trial to handing over information about the protests to "Washington" and had apologised and asked for clemency. The semi-official Fars news agency said Rassam had admitted acting as liaison for senior British officials in the embassy, including Tom Burn, the second secretary, who was expelled, and had accompanied him to meetings with opposition leader Mir Hossein Mousavi. He had also confessed that the embassy had used "bursaries" and an English-language examinations scheme as a cover for contacts with members of the Iranian elites.
Of course the non Ahmadinejad parties denounced the mass trials but what have they done to stop them?
It's one thing to denounce from outside Iran as a foreign government and another by fellow Iranian citizens.
David Milband, UK Foreign Secretary commented along the same line as Secy Clinton:
I am deeply concerned by the unjustified charges laid against Hossein Rassam in Tehran. Hossein is a member of our embassy staff going about his legitimate duties. Iranian action against him only brings further discredit on the Iranian regime.
Yes they afraid of their own people and the mass trials are discrediting the Iranian regime but the Arab world clearly doesn't care. They are doing nothing to condemn the trials and are therefore all complicit – just as they were when Hamas was bombing Israel. They are all savages over there and clearly are not intent on affording their people freedom – least of all women and girls.
Also on "trial" was French language teacher, Clotilde Reiss  who was arrested at the Tehran Airport on July 1 as she was trying to leave. She was charged with "spying and helping a Western plot to overthrow clerical rule" and had been Iran only 5 months.
Fars via CNN CLOTILDE REISS addressed the court:
I shouldn't have participated in the illegal demonstration and shouldn't have sent the pictures, I am regretful. I apologize to the Iranian people and court and I hope the people and the court forgive me.
She is pictured below on the right. It's difficult to look at her face – she already looks like she's been sentenced to death.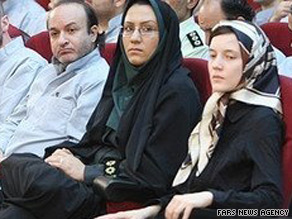 CNN
French embassy worker Nazak Afshar (middle) was also arrested and tried. Neither women were afforded a lawyer and France said they weren't even notified of the trial.
After Clotilde Reiss' appearance before a court in Tehran, France renews its demand for the immediate liberation of the young academic, since the accusations against her are baseless.
France also stands against the conditions of that [court] appearance. The embassy was not informed in advance nor permitted to attend the hearing, in accordance with international rules of consular protection. We regret that Ms. Clotilde Reiss and Ms. Afshar are not being assisted by a lawyer.
Human rights activist sent a letter signed by 380 people to the United Nations High Commissioner for Human Rights, Navanethem Pillay, detailing the abuses inflicted on prisoners:
This is a regime that in an organized manner arrests its opponents and critics and tortures them in solitary cells.
They demanded the abuse be labeled "crimes against humanity" and the matter referred to the International Criminal Court in The Hague, Netherlands.
And what atrocities were inflicted on those who were tortured to death?
How many innocent protesters have already been summarily executed?