May 16, 2010: Reiss arrives home
August 17, 2009
French academic Clotilde Reiss, 24, was picked up from the airport as she was departing Tehran and jailed as part of the crackdown after the protests of the election June 12. She was charged with "spying and helping a Western plot to overthrow clerical rule" and then made to take part in the mass trials following the protests of the election outcome. She was forced to confess to acts she most certainly did not commit – she was a teacher and had been in Iran only 5 months.
She was jailed alongside a French Embassy worker, Nazak Afshar, who was also charged with espionage and acts against the state. Both have been released on unknown bond awaiting sentencing. Ms Reiss is staying at the French Embassy until then.
Bail: "around 200,000 euros" (284,000 dollars)
They should get her out of there.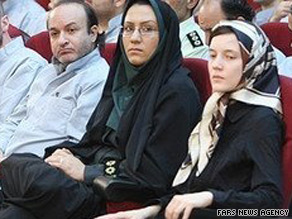 British embassy worker Hossein Rassam, French Embassy worker Nazak Afshar and Clotilde Reiss.
See more background here, including English Embassy worker held.
Reuters