(12-10) Ms Ashtiani/Sajjad NOT released
Dec 9, 2010
Ashtiani/stoning posts
Ms Ahadi re: Ms Ashtiani's release
One hopes this is true. I've heard the 2 kidnapped Germans journalists were also released but have heard nothing about Ms Ashtiani's lawyer Houtan Kian. Will keep checking.
The Guardian headline:
Sakineh Mohammadi Ashtiani 'freed' after outcry over stoning sentence
They're not convinced either. But to free Ms Ashtiani and then re-imprison her on the same charges would completely discredit Iran (as if anything else is needed). The key is to get Ms Ashtiani and her family out of there before Ahmadinejad and the Larijanis frame her for something else or she has an "accident".
This photo of Ms Ashtiani and son Sajjad at home in Osku was released Iran's propaganda TV (Press TV). No idea where or in what condition Sajjad's sister is or who had been caring for her while the Islamic Republic of Iran kidnapped, held hostage and tortured her brother and her mother's lawyer Houtan Kian.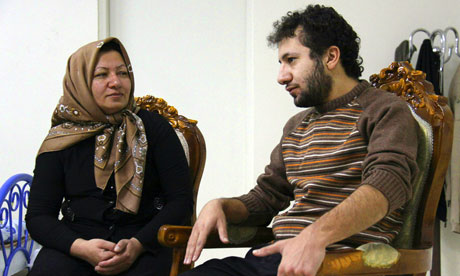 (AFP/Getty Images)
What I find interesting is Ms Ashtiani's body language, especially her hands – the fist seems intentional.
Evidently Ms Ashtiani was interviewed on Sunday by propaganda TV. Haven't found the interview but it was the first forced TV appearance that wasn't pixilated.
Ms Ashtiani's message and the toll of her and her son's false imprisonment and torture is very clear in this photo.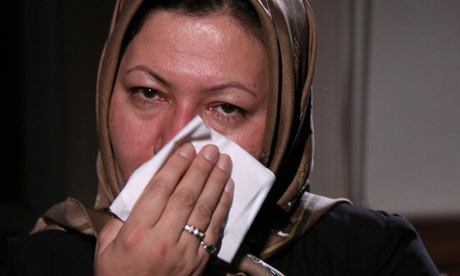 (Str/AP)
Congratulations to Ms Ashtiani for surviving and to her son Sajjad for making the world aware of his mother's false imprisonment and barbaric sentencing.
Congratulations also to Mina Ahadi (ICAS/ICAE/Save Sakineh Campaign), Maria Rohaly (Mission Free Iran), the 2 courageous German journalists and everyone around the globe who stood up and spoke out.
Perhaps now folks will grasp that the only way to free the citizens of the Islamic Republic of Iran is through highlighting the regime's horrific human rights abuses.
Which brings me to this.
What the Islamic Republic of Iran doesn't want you to know is they hanged a different innocent woman, Khadijeh Jahed, know as SHAHLA JAHED (pix L) on Dec 1st.
(AFP/GETTY VIA ICAS)
Don't know if Ms Jahed was strung up on an execution crane.
-
Ms Jahed was (yet another woman) initially acquitted of the charges that she was eventually executed for after she was imprisoned for more than 9 years, physically tortured, forced to confess, psychologically abused with multiple execution dates and then finally hung. Her story HERE and HERE.
To sum up the "investigation" the woman Ms Jahed was alleged to have murdered was raped before she died.
And the man who signed her execution order and has her blood (as well as countless others) on his hands =  HEAD OF THE "JUDICIARY" – SADEQ LARIJANI. (Smurf at right.) Ms Jahed wrote him and he refused to help her.
As for the rest of the Regime of Flogging and Stoning's death row:
Guardian: Ten Iranian women and four men are on death row awaiting execution by stoning, among them Azar Bagheri, 19, Iran Iskandari, 31, Kheyrieh Valania, 42, Sarimeh Sajadi, 30, Kobra Babaei, and Afsaneh R.
Recall what MOHAMMAD LARIJANI (smurfs brother) said about stoning during his recent interview with Fareed Zakaria:
LARIJANI: First of all, you should be aware that the stoning is a very rare punishment for the extreme case of crimes, which involves extreme adulterous case.

And Ahmadinejad repeatedly lied during his Sept 2010 interview with Christiane Amanpour. First about Ms Ashtiani:
AHMADINEJAD: Miss Mohammadi was never sentenced to stoning. This was news that was produced and incorrect, and regrettably, U.S. media affected — was infected by U.S. politicians to make a piece of news out of it.
Re: executions.
AMANPOUR: Since we're talking about this, since you've been the President executions in Iran have increased by four times. Did you know that?

AHMADINEJAD: That is not true at all. Not at all. Not at all.
Politifact truth-o-meter = Lie.
And Ahmadinejad and the Larijanis have no intention of slowing down.
Today, Iran Human Rights:
Following the International Campaign for Human Rights in Iran's reports of secret group executions without due process inside Mashad's Vakilabad prison, local sources told the Campaign that nine more people were executed on 30 November. The source also reported of 11 executions of individuals for drug-related crimes on 9 November.

Counting the other 10 prisoners who were executed on 26 October, in less than two months 30 executions have been carried out inside Vakilabad prison.

According to reports from informed sources, 23 other prisoners were hung inside the prison in early October.

These executions are not included in official statistics released by the Judiciary to government media.
Why hide if they were legitimate convictions?