Dec 21, 2010
And folks went right alone with him – a private nurse drawing the blood and a calligrapher transcribing the text over a period of 2 years in the late 90′s.
The Guardian actually used the word "relic".
As country debates whether to destroy everything connected to former dictator, Shia-led regime remains sensitive about relics.
Of course some Muslims will say it's ok under the Koran and others will say it's forbidden. Which is the major problem with Islam and why it's such a joke when Muslims say Americans needed to be educated about something Muslims can't even agree on.
605 blood-stained pages on display for all to admire. No comment on the type of paper used.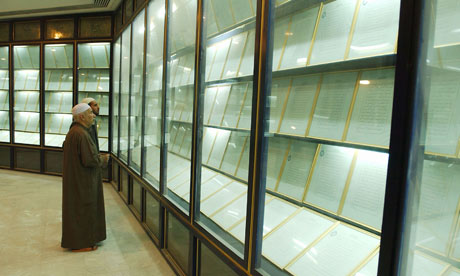 (Scott Peterson/Getty Images)